The Monticello - LOCATION
The Monticello is near the Mahogany Market, providing you an easy and immediate access to your grocery needs. The market is also known for the best eateries in Tagaytay. The city hall is only 2.2 kilometers away from The Monticello. In that case, you can easily travel to and go there to process documents, find help or seek assistance from the government.
And then only 3.5 kilometers away is the Taal Vista Lodge, one of the most famous attractions in the place that gets you closer to nature, giving you a quick escape from day to day living. The People's Park is another place nearby, a popular place for local and foreign tourists for its breathtaking view of nature.
The Monticello gets you closer to the hottest destination spots in the city where tourists from the metropolis and other countries are going to explore nature, feel the cool breeze and simply enjoy their time with their loved ones.
The location is one of the most important features to look for when buying a new property. It must be near the places that you need to keep up with your busy and modern lifestyle. There is so much to explore and take pleasure from if you choose living at the Monticello. It is a place close to all your places of interest, including churches, schools, restaurants, hospitals and more!
If you'd invest here, you won't have a hard time going around and finding the most important places in your life.  Whether you're looking to shop and dine, go to worship places or simply spend more time with your family in one of the key tourist spots in the city, you will find them all here.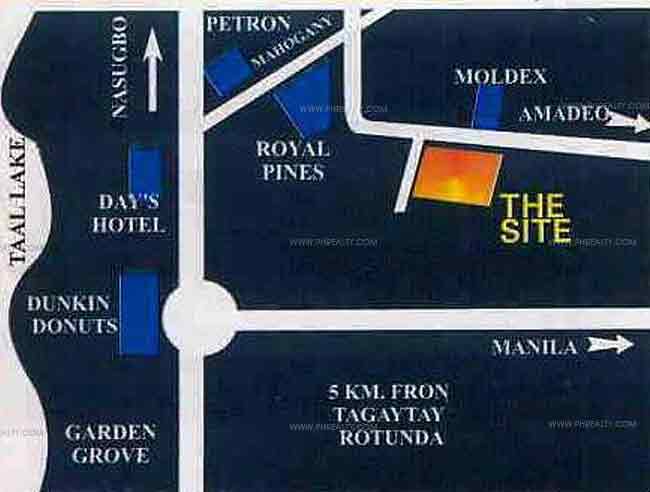 Strategic Location:
Sta. Rita Drive, Brgy Kaybagal, Tagaytay City with reference to Tagaytay City landmark:
2.2 kms from Tagaytay City Hall
3.5 kms from Taal Vista Lodge
12.2 kms from People's Park in the Sky
5.0 kms from Silang Crossing
5.2 kms from Mendrez Crossing
200 m from Tagaytay Amadeo Road